Columbia Student Residence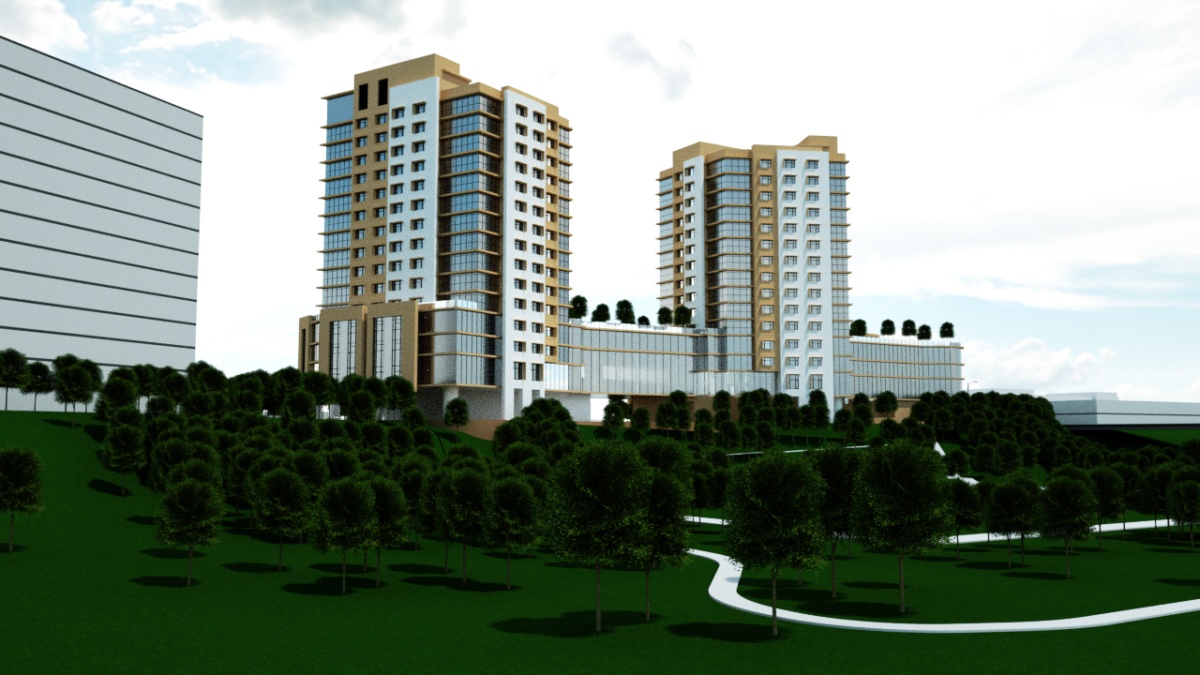 PLEASE NOTE: As per the October 21, 2020 Local Planning Appeal Tribunal decision, Columbia International College no longer has any affiliation with this proposed development.
UrbanSolutions Planning & Land Development Consultants Inc. is the authorized planning consultant acting on behalf of Plaza Imports Limited, the owner of 925 Main Street West, and Columbia International College, the applicant.
The proposal for the subject property is to develop two fifteen (15) storey towers, including a four (4) storey podium. There will be 1,380m² of ground floor commercial space. This space is envisioned to be used by a doctor's office, sandwich shop/café or laundromat. These uses will cater to both the students/staff in the building and the surrounding residents.
The proposed 456 units will provide beds to 910 students attending Columbia International College. The development will be serviced by 107 parking spaces, found below grade, 50 secure long term bicycle spaces and the reinstallation of SoBi bike share.
The rear of the property will be re-established, creating a stable slope and incorporating playing fields and a passive area for use by the students. This stable slope will allow for the table lands to be developed in an innovative way. It is estimated that the value of the project will be between $40-$60 million. This would generate approximately $500,000-$700,000 annually in municipal taxes.
This project has the potential to demonstrate positive intensification strategies at a key location within the emerging Education District Node, within the Westdale Neighbourhood. The Education District Node encompasses a range of educational and research facilities within the City of Hamilton, including, but not limited to Innovation Park, McMaster University, Westdale Neighbourhood, Columbia International College Campus and student accommodations in the surrounding area.
To facilitate this proposal, applications were submitted to the City of Hamilton in April of 2016, to amend the Urban Hamilton Official Plan and the applicable Zoning By-Law.
The purpose of this website is to provide interested parties with access to the proposed development application details, supporting studies and access to participate in the planning process.
Prior to submitting planning applications to the City of Hamilton, the development concept participated in the City's Formal Consultation process. Through this process, it was determined that a Survey, Concept Plan, Planning justification Report, Elevations, Urban Design Report, Slope Stability Study, Functional Servicing Report, Noise Impact Study, Pedestrian Wind Study, Parking Analysis, and Hydraulic Analysis would be required to evaluate the proposal.
These reports have been completed and submitted to the City of Hamilton in support of the proposal and copies of the reports are available for you to review.
April 15, 2016 – Applications for Official Plan Amendment and Zoning By-law Amendment submitted to the City of Hamilton.
April 28, 2016 – Applications deemed complete.
October 18, 2016 – Neighbourhood Information Meeting held at St. George's Church.
September 4, 2018 – Public Meeting at Planning Committee.
September 12, 2018 – Official Plan Amendment and Zoning By-law Amendment passed by City Council.
October 11, 2018 – Official Plan Amendment and Zoning By-law Amendment appealed to the Local Planning Appeal Tribunal.
October 21, 2020 – Local Planning Appeal Tribunal Decision.
Your involvement in this application process is welcomed and encouraged. The public participation process for any development application is prescribed by the Ontario Planning Act, R.S.O., c. P.13.
For details on how to formally participate in the planning process, please refer to the Notice of Complete Application or contact City of Hamilton Planner Valeria Maurizio at [email protected] or 905-546-2424 ext. 1024.
Also feel free to contact UrbanSolutions Planners directly at [email protected] or 905-546-1087.